Welcome to your home away from home.

Sunday Services:
Traditional service at 9 am
Contemporary service at 11 am
Online and In-Person
950 University Drive, Coral Gables, FL 33134
Make parking a breeze
You can park on all the areas highlighted in yellow.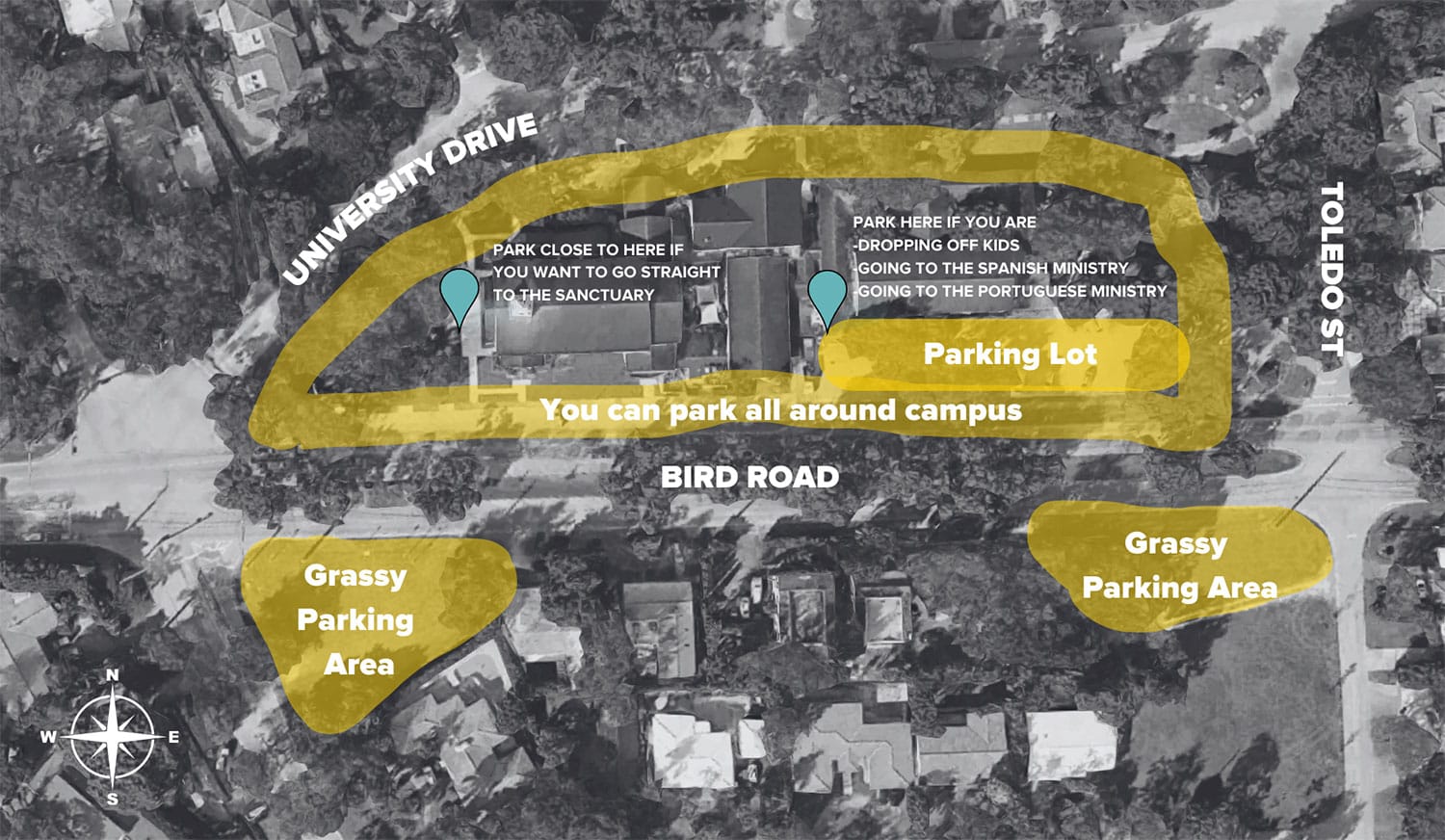 The Problem:
Disconnection from
God and people
The Solution:
Enjoying God
through Gospel community
Watch a service before you visit
Your Granada guide
You've got questions, we've got answers!

Why go to a church?
Being part of a group of people that want to seek Jesus is important for each individual person's faith. Think of it as a support system that provides encouragement and company.
Why come to Granada, specifically?
Each church has a personality and a different approach to following Jesus. We are a welcoming and fun place where people are the priority.
We are a Presbyterian church – find out more about that here.
What if I don't understand things?
All of us have questions. Even people who have been following Jesus their whole lives!
We have a team of pastors and staff members who are happy to chat with you about your faith journey.
What else is there besides Sunday services?
We have several large events throughout the year where hundreds of people gather and spend time together.
We serve the community through volunteer projects.
We encourage participation in small groups that foster deep relationships.
Am I going to be accepted?
A basic human need is to be socially accepted.
We strongly proclaim that Everyone Belongs Here, and we mean it.
You'll never be turned away from attending our church.
Do I have to be Christian to visit?
Nope.
A church is just a group of broken people seeking repair.
Our desire is that through participating in church life, you'll be encouraged to seek Jesus along with us.
Where do I park?
We have a parking lot on Bird Road.
You may also park on any grassy area around our campus.
We also have two lots across the street on Bird Road with signage that you can park on.
What do I wear?
You can wear whatever you're comfortable in.
At Granada, half of people dress up in business casual clothing while the other half dress in T-shirts and jeans.
Whatever makes you happy will do!
The Kiddos
Our GranadaKids! Check-In Center is located on the Bird Road side of campus.
You can RSVP your child here for a faster drop off experience.
We have a nursery for infants, a Preschool room, an Elementary park, and the Youth Loft. Every age is uniquely loved.
We are here to make this easy for you
If you'd like any additional help or have any questions or special requests, feel free to let us know ahead of time.